Amber parrish
Manager | LMT
Pronouns: She/Her
Style: Therapeutic Integrative
Favorite Service Type: Thai
Ideal Client: Headache sufferers
Instagram: amberatprecisionwellness
Self-care faves
Massage, chiropractic, yoga, pilates, acupuncture, energy clearing sessions, meditation, walks, Epsom salt baths, electrolyte, and collagen supplements, and dancing like nobody's watching.
What I Do and Why
Pain management, I became a massage therapist to help relieve pain for my clients so that they can enjoy a better quality of life. Having experienced chronic pain myself, I know how debilitating it can be.
Injury rehabilitation, My goal is to help people recover faster so they can keep moving and grooving, and doing what they love. Even minor injuries can lead to pain and compensation patterns. Massage can prevent or interrupt the formation of the patterns that often develop due to tightness or weakness after injuries. Clinical massage especially enhances physical therapy results, and the Neuromuscular techniques I practice were developed with these goals in mind.
Headaches, I used to have chronic headaches and massage is part of why I don't suffer from them now! Head, neck, and jaw massage treats headaches. Since the same thing that treats it prevents it, regular massage helps reduce headache severity and frequency, even migraines and cluster headaches.
TMJD, or Temporomandibular Joint Dysfunction, Jaw tension, clenching or grinding your teeth, orthodontia, recent dental work, or oral surgery can all cause jaw pain. Intra-oral massage is a game changer for this type of pain.
Thai massage, Thai massage is like having yoga done to you. You keep your clothes on, and attempt to become a rag doll. Runners love it. Anyone with back pain loves it. People who don't like the feel of lotion, or who don't like disrobing love it. I also love it! It may be my favorite type of massage. I incorporate neuromuscular approaches into Thai that really effectively targets the low back and hip pain.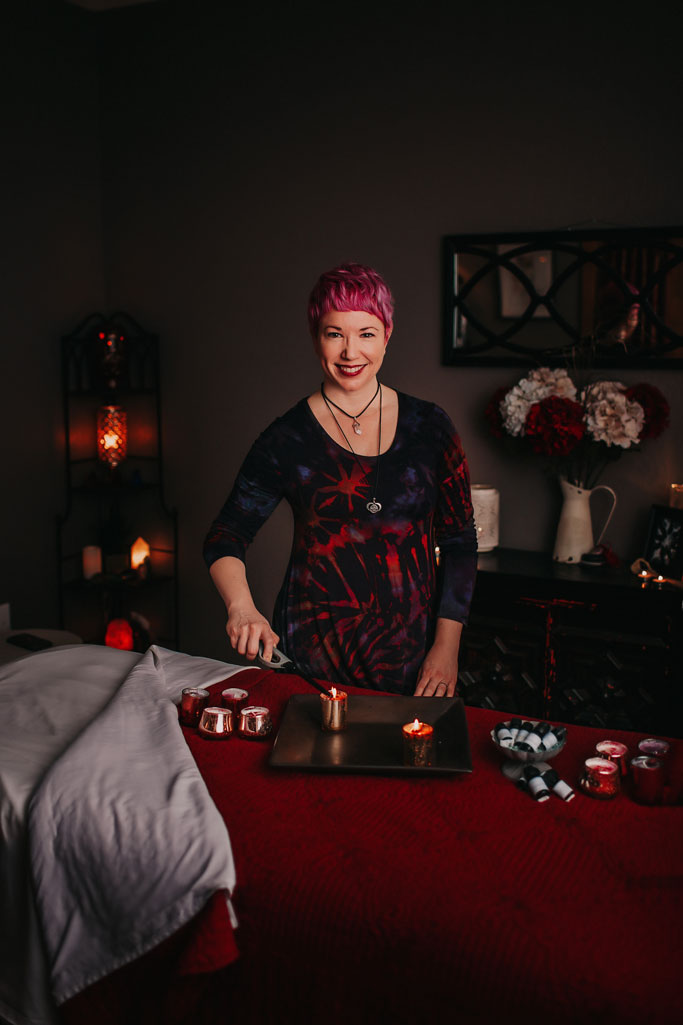 Education
Balanced Body Movement Principles
Pilates Mat 1 Instructor Training
Professional Massage Training Center
Precision neuromuscular (PNMT)

Head and neck (x2)
Spine and thorax
Lower extremities
Upper extremities
Form and function (x2)

Stop the Pain seminar
Anatomy trains slings one
Anatomy trains head, neck, and jaw
Anatomy Trains Master Class (course audit)
Yoga anatomy
Rocktape basic and functional
Thai one and two
Thai integrative
Functional movement specialist (in process)
Reiki one and two
Peruvian shamanic tradition, Mesa carrier
BS in Literature, Drury University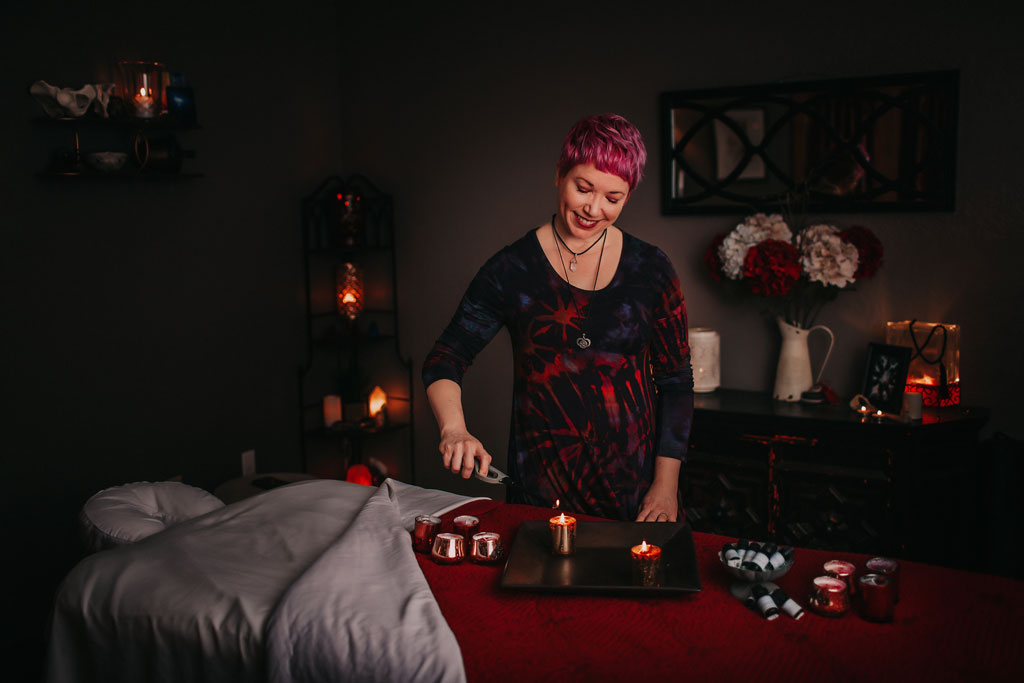 A Little about me
I love music and music festivals. Dancing barefoot is the best! I like to be outside and camp, and I hate winter! I have two cats and two dogs, two step kids, and an artist husband. I studied literature in college and I still love a good story. I'm passionate about learning and continuing education, and I like to share what I learn about the body with my clients. I'm currently studying functional movement, and I want to study more Thai massage, anatomy trains, and nutrition.