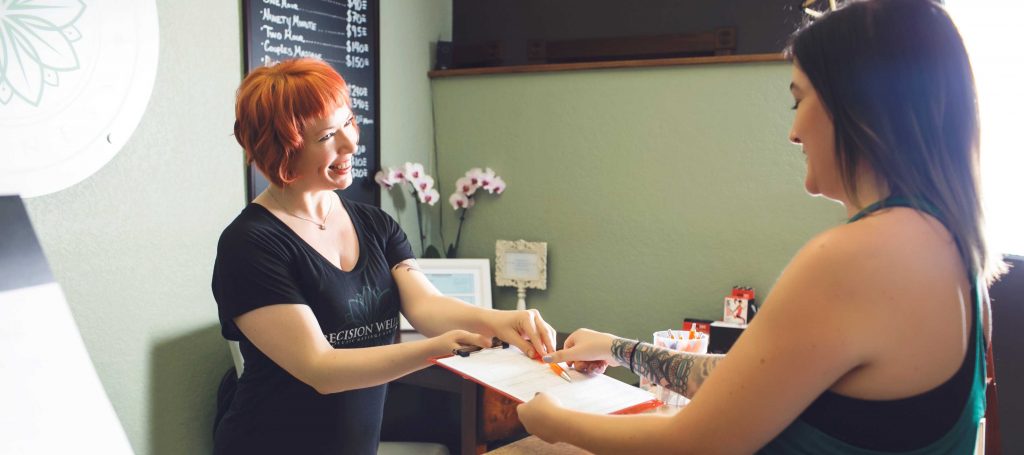 What To Expect from a Massage at Precision Wellness
You can expect to fill out a health intake form before your first massage session and to update it every year or so. Your therapist will ask you about your expectations for the session and check in with you often about your comfort during the session.
We offer different types of therapeutic massage including: PNMT, Thai, Deep Tissue, Therapeutic, Sports, or Swedish. You can read more under our Massage tab or ask your therapist about the differences. If you scheduled a PNMT or deep tissue massage, but arrive for your appointment stressed and you just want to relax, that's ok, just tell your therapist! It's important to discuss your expectations of the session with your therapist before the session starts so we can customize your session. If the table warmer is too warm or the music is annoying, or you're uncomfortable in any way, just tell your therapist! Thank you for your communication!
Our therapists are highly educated and they care about your comfort and results. What does that mean? A lot of clients ask us about the requirements to obtain a massage therapy license. In the state of Missouri, a massage therapy license requires a minimum of 500 clocked training hours and a few hours of continuing education every couple of years. Our training far exceeds those minimums. In other words, we really know our stuff! Our commitment to education is just one thing that sets us apart at Precision Wellness.
If you schedule a PNMT, Sports or Thai massage session, you need to wear or bring gym clothes including: shorts, leggings, sweats, and sports bras, tanks, or tees. Any clothing that allows movement is appropriate for a PNMT, Sports, or Thai massage session.
If you schedule any other type of massage you can expect privacy to undress to your comfort level. This may or may not include undergarments. You will be professionally draped during the entire session. Your modesty is of utmost importance and it is our goal to provide you with the most professional and relaxing environment possible.
Click Here For Success Stories From Our Clients
Therapeutic Massage Types and Prices
Note: You must put a credit card on file to reserve your appointment online. If you need to cancel please provide 24 hours notice! Less than 24 hour notice or missed appointments are subject to charges for the full value of the appointment.
Anyone needing to relax their body and mind can benefit from a Swedish relaxation massage. This form of massage uses a variety of techniques specifically designed to relax the body and engage the sympathetic nervous system. Swedish massage feels nice and many clients fall asleep! Swedish relaxation massage is what most people associate with spas. It is designed to sooth the nervous system.
Combination Massage
If you're looking for the best of both worlds, specific treatment of a few aches and pains and a relaxing Swedish massage, this type of session will work for you. Also known as Integrative massage, for this session your therapist will design a custom blend of PNMT and deep tissue techniques and traditional relaxation massage to meet your session goals while still allowing you to relax.
This type of neuromuscular massage uses very firm pressure to work past the first layer of muscle tissue. Deep tissue massage has a "good hurt" sensation and can relieve chronic pain and increase joint mobility. It offers all of the benefits of a Swedish massage, but with a deeper pressure. It's common to feel a little sore the day after a deep tissue massage, but it is important to communicate with your therapist about the massage pressure. More isn't always better!
This type of massage is aimed at alleviating acute or chronic pain due to injury or repetitive strain. If you choose this type of massage, you will need to show your therapist what movements hurt and describe your issue specifically so that your therapist can determine which muscle(s) are possible sources of your pain. You may experience minor physical discomfort (yes, sometimes massage hurts) and be asked to wear gym clothes and move around for this type of session.
Rehabilitative Sports Massage
This type of massage is aimed at alleviating pain due to sports injuries and regaining or maintaining athletic performance. Rehabilitative massage therapy emphasizes prevention and healing of injuries for athletes. You may be asked to demonstrate activities and we request that you wear gym clothes for this type of session.
Thai massage is also sometimes called Thai yoga massage or "lazy yoga," because our therapists use their hands, knees, legs, and feet to move you into a series of yoga-like stretches. If you think you could benefit from yoga but find it too challenging, or if you love yoga and want to deepen your flexibility, you'll likely love Thai massage. Muscle compression, joint mobilization, and acupressure are also used during a Thai Massage session. We ask that you wear gym clothes for this type of session.
PreNatal massage therapy gives relief for swelling, stress, and muscle cramps associated with pregnancy. Particular attention is paid to stress bearing areas such as the lower back and hips. We wait until after the first trimester, so this service is only offered for expecting mothers at least 12 weeks along in their pregnancy. Special pillows and props are used to maximize comfort during this type of session so mama can relax!
---
Therapeutic Massage Packages
4 One Hour Massages: $240
4 90 Minute Massages $340
** We encourage you to use your packages within 6 to 12 months, but packages do not expire. **
Spot Treatments
TMJ Treatment 15-20 minutes: $40
NMT Touch Up Treatment 15 Minutes:  $20
** Must be an existing client to take advantage of spot treatments**
Upgrades
Aromatherapy: $10
Hot Stones Full Body: $20
Hot Stones-back only: $10
Hand or Foot Sugar Scrub: Just feet or just hands for $5 or both for $10
Please follow these steps to schedule a massage:
Select a treatment by clicking anywhere on the 'Select Appointment Type' drop-down menu and then selecting the treatment from the list.
Select a therapist by clicking anywhere on the 'All Therapists' drop-down menu and then selecting the therapist from the list.
Click on the date you prefer on the calendar.
Click the Search button. This will show the available appointments for the treatment, therapist, and date you chose below the calendar.
Click on time that works best for you. This will open a popup window.
Follow the prompts in the popup window to complete the booking process.
If you have any questions or have any issues, please contact us at (417) 886-1131.
Thank you!
If you do not see the scheduling feature below, it will appear momentarily.