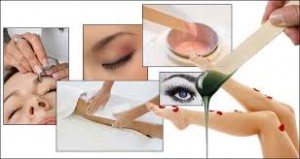 Why wax in the first place?
Waxing is one of the best ways to temporarily remove unwanted hair. It is more effective than shaving because it removes hair from the roots, not just from the skin's surface. Over time, hair in waxed areas regrows lighter and sparser or not at all.

Even fine hair shadows the face, distorting and aging your features. Waxing the brows opens up the eyes, providing a non-surgical facelift. You keep the hair on your head well-maintained, so why not everywhere else?
What areas of the body can be waxed?
The wax can be used on almost any part of the body as needed.  It is wise to test a small area first for sensitivity.  Some frequently waxed areas for women are legs, underarms, bikini line, eyebrows and face. For men: chest, leg, arms, and back.  The exceptions for waxing are the beards  and inside the ears.
How long will the results last?
After a client's first waxing, the results can last 3 to 6 weeks depending on the individual's hair re-growth. In most cases, hair growth is minimal during the first week or two and noticeably increases in the third and fourth week. Heat stimulates hair growth, therefore hair grows quicker in the summer than in the winter. With regular waxing the length of time between treatments will increase. Continued waxing results in sparse hair re-growth.
Will the hair grow back thicker?
Absolutely not. It might seem so because you will be accustomed to a hairless zone, and new hair will be intolerable. Usually, regrowth will be finer, thinner and slower. Eventually, hair growth may stop altogether.
Are there any health precautions to keep in mind?
VERY IMPORTANT: Some physicians do not recommend waxing for persons suffering from diabetes or who have varicose veins or poor circulation as they are more susceptible to infection. Waxing is never done on clients taking Accutane and is not recommended for clients using Retin A, Renova, Differin or other types of skin thinning acne medications. Please read the label carefully and consult your dermatologist if you are taking any medication or using any topical cream that contains these medications. Individuals do react differently to these medications and sometimes waxing can be done if proper patch testing is completed.

Also, please advise your esthetician if you are allergic to any foods – because if you can't eat it, you shouldn't put the extracts on your skin. Please be completely honest with your Skin Care Therapist about all allergies and medications you are taking – it is for your protection.